Discover CREVAWC
The Centre for Research and Education on Violence Against Women & Children (CREVAWC) is committed to the development and application of knowledge for the prevention of violence against women and children through promoting innovation, collaboration and equality.
Projects
At the Centre
Samra Zafar, award-winning speaker & author is coming to London!
DATE:
March 12 & 13, 2020
LOCATION:
Western University, Faculty of Education
Samra Zafar is an international speaker; bestselling author; and social entrepreneur who advocates for equity; inclusion; and human rights. Samra's story from child bride suffering decades of abuse, to single mother working multiple jobs, to graduating top of her class is an inspirational story we all need to hear. 
Register & View More Information
---
Addressing Domestic Violence in the Workplace Through Collaboration Dialogue Series
The Regional Dialogue Series has been created with the intention of creating space for labour, federally regulated employers, shelters, and marginalized communities to come together and collaborate. The intention is to share information about working collaboratively across sectors, geographies and types of organizations to address domestic violence in the workplace.
View French Information | View English Information
---
 Trauma and Violence Intervention Research: Promoting safety and well-being across the lifespan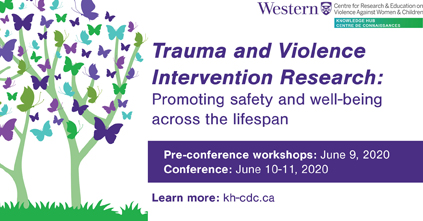 Pre-conference workshops: June 9, 2020
Conference: June 10-11, 2020
Location: RBC Place, London, ON
Trauma is prevalent in our world and many of the people we work with live with its physical, mental and emotional impacts. Providing effective and compassionate support requires trauma-informed practice with a cultural and historical understanding of lived experience. Join our conference featuring innovative trauma-and violence-informed health promotion and intervention research supporting people with lived experiences of intimate partner violence and/or child maltreatment.  View more information
---
Canadian researchers, community collaborators launch study to learn
from survivors and those left behind to enhance domestic homicide prevention
Participants for the study must identify as a survivor of severe domestic violence or a family member, friend, or community professional who lost someone to domestic homicide from one of the four vulnerable groups between 2006 and 2016. The domestic violence or domestic homicide case must be closed, meaning that there are no pending court or coroner investigations. Participants must be safe, at least 18 years of age, and willing to have their interview audio-recorded. People can share their story with the CDHPIVP research team by phone, video conference, or in-person. If needed, translation services are available, and travel and/or childcare costs will be covered. Participants will receive a $50 honorarium for sharing their story.  View more information
Our Stories
Fatal Silence
The Canadian Domestic Homicide Prevention Conference is the backdrop for this insightful documentary that focuses on Sonia El-Birani who was murdered by her husband in 2012. Her daughter, Maha El-Biranı speaks publicly of the traumatic events and through behind the scenes conversations and self reflections uncovers the risk factors and potential actions that may have prevented her mother's death.